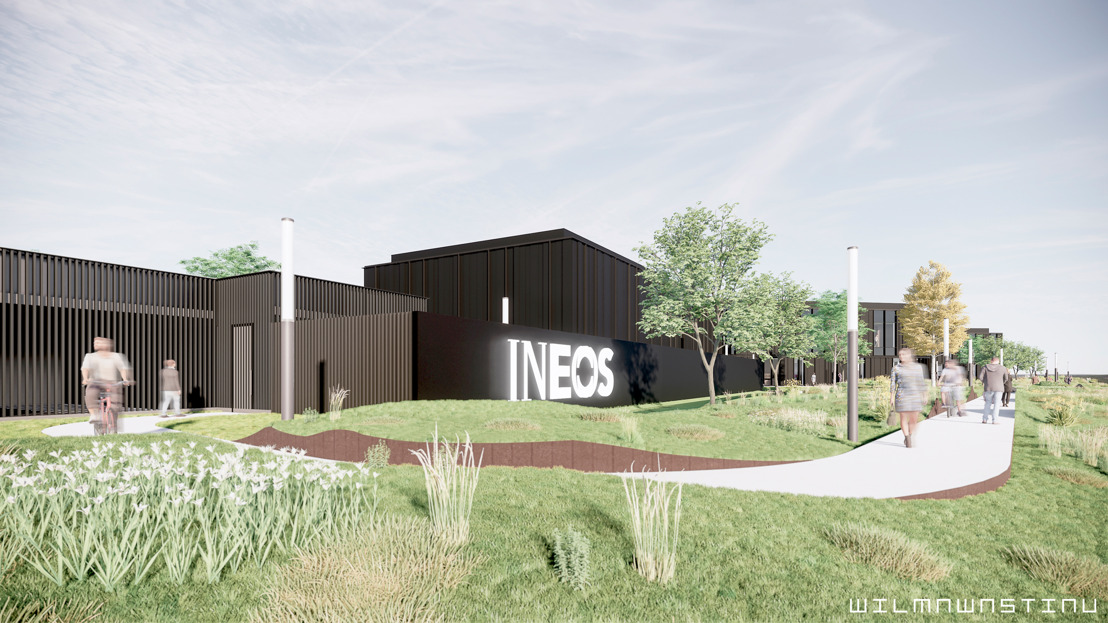 Administrative campus of INEOS Project One to be realized by Cordeel
Following the start of the early works for the construction of the ethane cracker, the realization of the admin campus gets off the ground
INEOS Olefins Belgium has signed a contract with Belgian contractor Cordeel for the realization of its new administrative campus.

The campus is included in the scope of Project One and will be built at the INEOS Project One site in Lillo.

Wilma-Wastiau's design pays attention to sustainability and focuses on integration into the environment of the Scheldt river bank.

Following the civil works with the JV Mourik-Aertssen and the JV Denys-Aertssen, this is the third contract in a row awarded to local contractors
New office for INEOS Olefins Belgium in Antwerp
The administrative campus for Project ONE has a capacity of about 250 people, contains modern open-plan offices and facilities such as a gym and a central meeting lounge with restaurant. In addition to the main building, the new campus also includes a new workshop space, storage space, security rooms and a bicycle storage and repair facility.
Brent Walworth, Senior Project Manager, INEOS Olefins Belgium:
"The main goal of Project ONE is, of course, to build the most energy-efficient ethane cracker in Europe. However, we are taking equal care to create a new administrative campus, which will house the future employees of Project ONE. The design focuses on employee comfort, well-being and health. This is reflected in the bicycle facilities which are committed to green mobility and the spacious layout of the buildings to allow people to work with the highest level of comfort. It's very motivating to build a campus where you really want to see yourself working in."
Modern and durable design
The campus was designed by the Belgian architectural firm Wilma-Wastiau. They specialize in designing industrial facilities with a twist, with an eye for historical aspects and the building's surroundings. The administrative building with green roof and adjacent landscape garden was specially designed to encourage and integrate the characteristic biodiversity of the banks of the Scheldt.
Architect W. Allen Zimmerman, co-founder Wilma-Wastiau:
"The design of the campus puts the focus on one hand on a dynamic volume along the Scheldelaan, and on the other hand on the quality of the working environment where the human scale prevails. By integrating a mix of functions such as office, company restaurant and warehouse in one campus around a green outdoor space, the boundaries between them blur without sacrificing a clear organization and security. The admin campus mirrors the recent realization of Ineos Olefins & Polymers in Geel, where sustainability and architecture are seamlessly integrated as a gateway to the industrial site behind."
The workspace and storage areas will be equipped with solar panels so that the campus will be self-sufficient in its energy needs. These are also kept low by investing in modern heat pumps for air conditioning in the buildings. Finally, the parking lot is equipped with charging stations for electric cars and bicycles.
Realization by Belgian contractor Cordeel
INEOS has awarded the construction of the new building to contractor Cordeel. Cordeel originated as a family business in 1934 in Sint-Niklaas. Today its headquarters are located in Temse.
Kevin De Hainaut, CEO Cordeel Zetel Temse:
"We are very proud to undertake this groundbreaking project. The project is driven by innovation to reinvent technology and sustainable production. The unique and modern design of the facilities combined with a high level of sustainable solutions, will set a new standard for the Antwerp port area."
Works will start still this year. ​