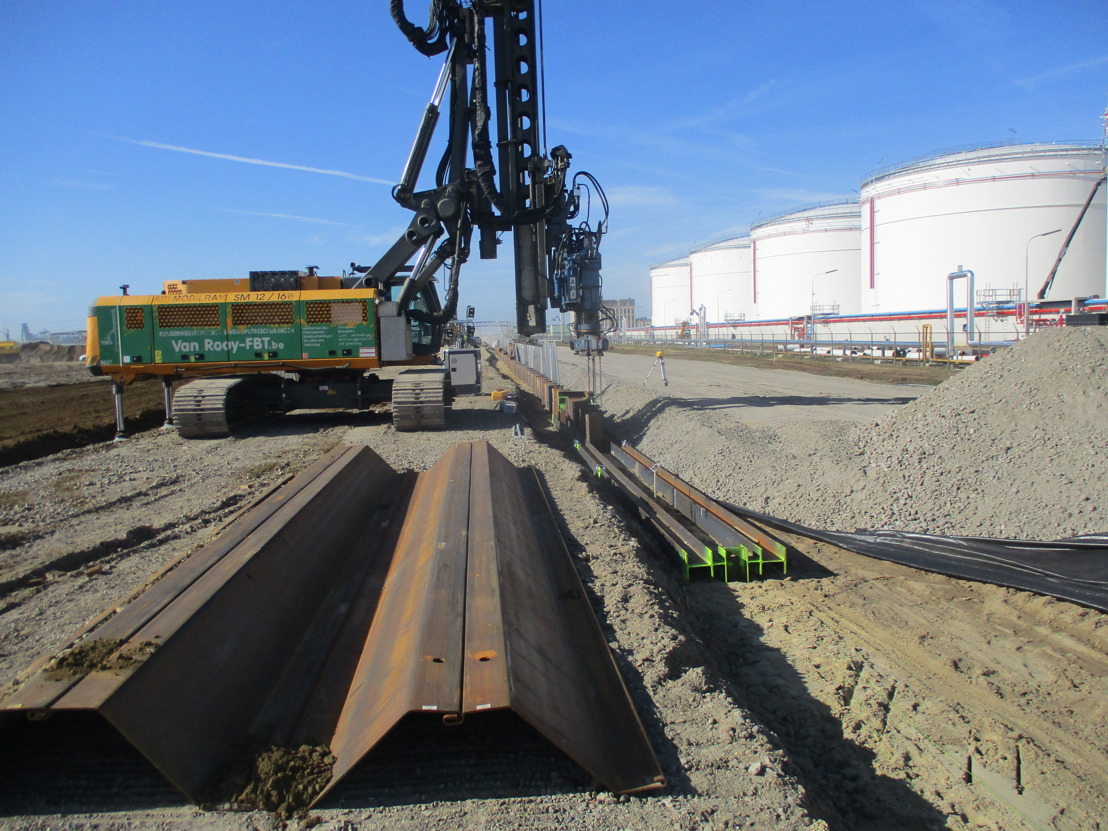 INEOS awards second phase of civil works for Project One to temporary JV Denys-Aertssen
New phase includes construction of underground pipelines, temporary installations and paved roads
INEOS Olefins Belgium SA has awarded the contract for the delivery of the second phase of works for the ethane cracker Project ONE to the temporary joint venture Denys-Aertssen. Denys-Aertssen will soon start the construction of the underground pipelines, temporary installations and paved roads. The contract has a value of almost €100 million and will run for about two years.
Second phase of Project One
This brings the realisation of Project One, INEOS' ethane cracker in the port of Antwerp, another step closer. In December last year, the first sheet pile officially went into the ground. In recent months, the temporary partnership Mourik-Aertssen has continued working hard on the site so that the second phase of the works can start as early as this spring.
The contract for this is estimated at around 100 million euros. Works will start in April 2023. ​ The new phase includes the laying of underground pipes including sewage, drinking water; drainage and fire-fighting water pipes, the laying of foundations for temporary buildings, and the construction of roads, parking, footpaths and bus stops.
Fabien Chalas, Project Director Project ONE:
"We are delighted that the work is progressing smoothly and we will soon be able to start a new phase. Denys-Aertssen was chosen for this contract because of their technical expertise, their knowledge of working in petrochemicals and their excellent safety culture.We expect a scale-up of some 150 additional workers on site in the coming months." ​
Gert Mennes, Business Unit Manager Aertssen Infra:
"We are extremely pleased that INEOS Olefins Belgium NV is also entrusting the second construction phase of Project ONE to Aertssen Infra. Together with partner Denys, we will use our joint expertise to install underground pipelines, sewerage and final roads from April onwards. Once again, maximum reuse and transport of materials via inland waterways will form the basis of a sustainable execution. For example, to bring crushed stone material to the site, we will avoid around 10,000 truck movements back and forth, reducing traffic and CO2 emissions."
Patrick Berré, head of department Energies & Water Works Denys nv:
"We are ready to work together to realise this phase of Project One in the port of Antwerp, an environment that feels very familiar to us. For the construction of this underground infrastructure of pipes, made with raw materials (high-density polyethylene) from INEOS, it will be important to think in sustainable solutions. We are very proud to deploy our enthusiastic engineers and professionals and our expertise in above-ground and underground transport of molecules and electrons for this future installation. We look forward to a beautiful and sustainable collaboration with all stakeholders involved, focused on the future."
Socially engaged
Project One is the largest investment in European chemistry in more than 20 years. INEOS is committed to minimising the impact on the environment for the duration of the works and to working as sustainably as possible.
Now and in the coming years, many hands will be needed at the Project One site. INEOS engaged itself with the City of Antwerp to explore the options to provide Antwerp jobseekers with a working experience on the construction site. Also in this phase of the works INEOS is committed to do so, together with Denys-Aertssen.
Project One
Project One is the project for a new ethane cracker in the port of Antwerp. The cracker will produce ethylene, one of the most widely used basic chemicals worldwide and an essential building block for a variety of products, which can be found in lightweight materials for cars and wind turbines, pipes for transporting drinking water, insulation materials, medical applications, computer and smartphone casings, packaging to preserve food longer, textiles, etc.
Project One sets a new industry standard for the chemical sector in Europe by consistently deploying the best available techniques. In particular, the investment will pioneer energy efficiency and have a carbon footprint which is less than half of the 10% best steam crackers in Europe.
The project targets 2026 as the start year for operation, with construction taking around four years in total. The investment will create 450 direct jobs and thousands of indirect jobs. The total investment amounts to EUR 4 billion.