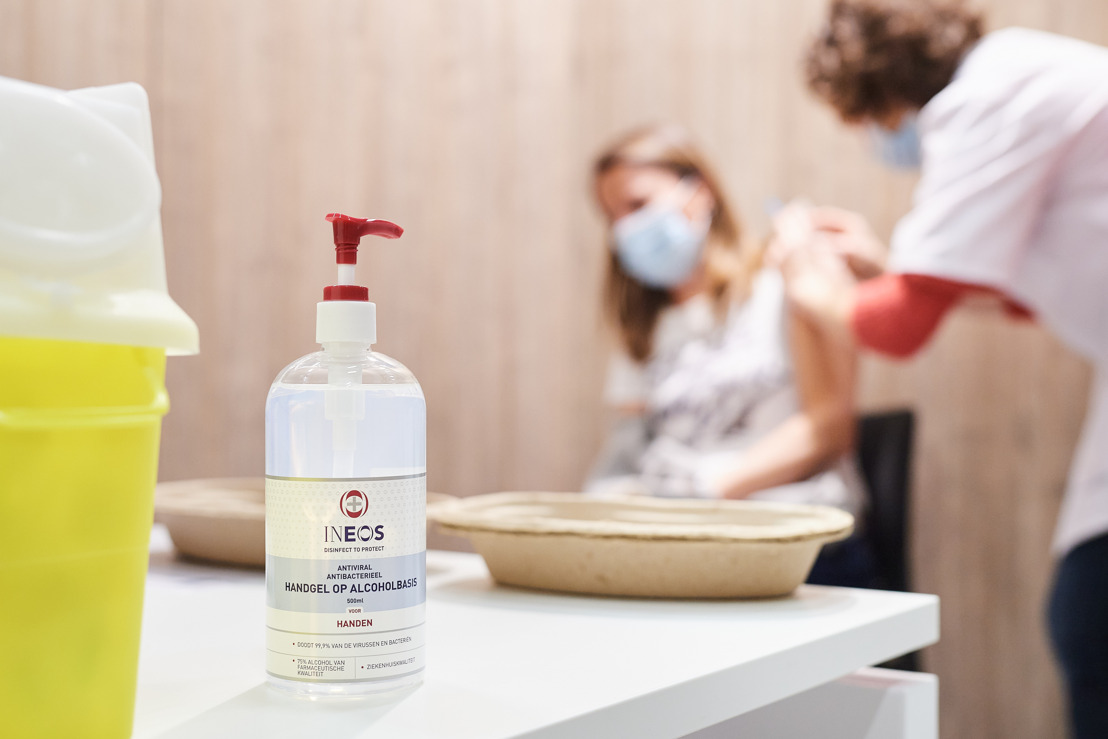 INEOS Hygienics supplies 75,000 litres of hand sanitiser as Flemish vaccination centres ramp up vaccination effort
INEOS has confirmed it is to supply 75,000 litres of hand sanitiser to all Flemish vaccination centres. Hand sanitiser continues to be effective in preventing the spread of the coronavirus, especially in the vaccination centres to maintain essential sterile conditions. Doctors and nursing staff are administering 20 vaccines an hour in each centre and must sanitise their hands before and after attending to each visitor. People attending are also requested to sanitise their hands before entering and following treatment.
Flanders launched its coronavirus vaccination campaign earlier this year. After the first wave of vaccinations in nursing homes and hospitals and of frontline health workers, the general population will now be vaccinated across the region's 95 vaccination centres. INEOS was selected by the Government of Flanders to supply these vaccination centres.
Joris Moonens, spokesperson for the Flemish Agency for Care and Health: "It is crucial that the care providers who vaccinate people are consistent when it comes to proper hand hygiene. A protocol was established for this: hands must be sanitised before and after contact with people. You only wear gloves if you have an open wound on your hand. All rings, wristwatches, nail polish or artificial nails must be taken off".
Making up the shortage
INEOS began producing hand sanitiser when it became clear that there was a shortage in Europe. The company built 4 new European plants in record time. In 2020, INEOS donated millions of bottles of hand sanitiser to thousands of hospitals across Europe. On-time delivery across Europe was managed by the logistics team belonging to the INEOS Grenadiers cycling team. In February 2021, CEFIC (the European Chemical Industry Council) recognised the initiative of the INEOS group to distribute free hand sanitiser in Europe with a "Responsible Care Award".
75% percent alcohol
"A sufficient supply of hand sanitiser is an important step in protecting the public during a pandemic," says George Ratcliffe, Chief Operating Officer ​ INEOS Hygienics. "The effectiveness of hand sanitiser depends on the amount of alcohol in the formulation. Our expertise as a chemicals manufacturer and our access to high purity ethanol ensures that we have the capability to produce premium quality hand sanitiser, that contains 75% alcohol."
Besides manufacturing alcohol-based hand sanitiser, INEOS produces over 300 products that are used as raw materials in medical products, essential in the fight against COVID-19.
George Ratcliffe said: "This includes the personal protective equipment for front line nursing staff, materials used in ventilators for the hardest-hit patients, syringes, and even materials used in the manufacture of vaccines etc. We are continue the production of these important materials, to get this pandemic under control together".
About INEOS Hygienics
INEOS Hygienics is a global healthcare brand, which started during the pandemic to meet the global shortage of sanitising products. In just ten days each, six plants were installed in the UK, US and Europe to start producing hand sanitiser. Each plant is designed to produce 1 million bottles of hand sanitiser every month, this large volume of which was distributed for free to hospitals in the UK, US and throughout Europe.
Now, INEOS Hygienics is providing the same hospital grade sanitisers to the public. Available to purchase on Amazon and in other retailers and pharmacies across the UK and Europe, INEOS Hygienics produces a range of hand sanitiser gels, sprays and wipes in a variety of volumes and pack sizes.
INEOS Hygienics also produce touchless hand sanitiser dispensers for the home and business. The dispensers for home come in four different colours, while the business dispenser is customisable for brands. Free-standing, table-top or wall-mounted, the dispensers feature touchless dispensing of hospital grade sanitiser, variable dosage settings, rechargeable lithium-ion battery, and lights to indicate low battery life and low cartridge levels.